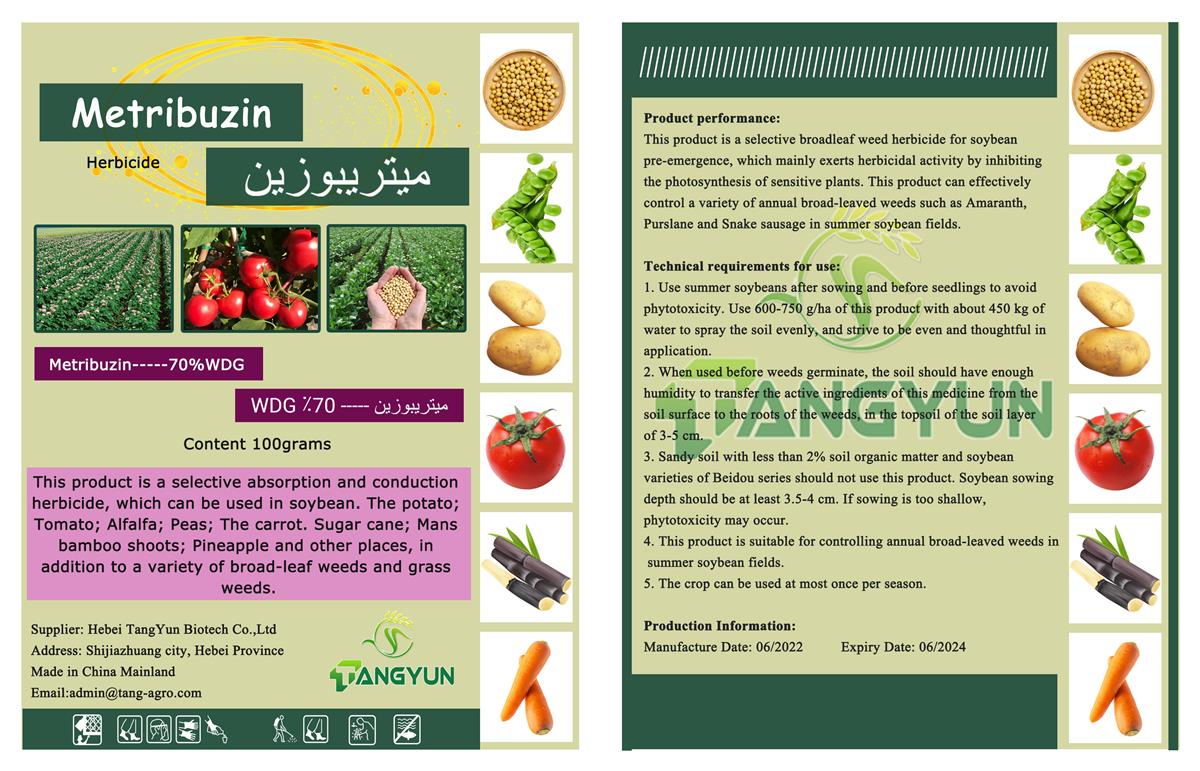 Tech Grade: 95%TC
Specification

Crop/site

Control object

Dosage

Metribuzin 480g/l SC

Soybean

annual broadleaf weed

1000-1450g/ha.

Metribuzin 75%WDG

Soybean

annual weed

675-825g/ha.

Metribuzin 6.5%+

Acetochlor 55.3%+

2,4-D 20.2%EC

Soybean / Corn

annual weed

1800-2400ml/ha.

Metribuzin 5%+

Metolachlor 60%+

2,4-D 17%EC

Soybean

annual weed

2250-2700ml/ha.

Metribuzin 15%+

Acetochlor 60%EC

Potato

annual weed

1500-1800ml/ha.

Metribuzin 26%+

Quizalofop-P-ethyl 5%EC

Potato

annual weed

675-1000ml/ha.

Metribuzin 19.5%+

Rimsulfuron 1.5%+

Quizalofop-P-ethyl 5%OD

Potato

annual weed

900-1500ml/ha.

Metribuzin 20%+

Haloxyfop-P-methyl 5%OD

Potato

annual weed

1350-1800ml/ha.
Technical requirements for use:
1. It is used for evenly spraying the soil after sowing and before the seedlings of summer soybeans to avoid heavy spraying or missing spraying.
2. Try to choose a windless weather for application. In a windy day or it is expected to rain within 1 hour, do not apply the medicine, and it is advisable to apply it in the evening.
3. The residual effect period of Metribuzin in soil is relatively long. Pay attention to the reasonable arrangement of subsequent crops to ensure a safe interval.
4. Use up to 1 time per crop cycle.
Precautions:
1. Do not use in excess dose to avoid phytotoxicity. If the application rate is too high or the application is uneven, there will be heavy rainfall or flood irrigation after application, which will cause the soybean roots to absorb the chemical and cause phytotoxicity.
2. The drug resistance safety of soybean seedling stage is poor, so it should only be used for pre-emergence treatment. The sowing depth of soybeans is at least 3.5-4 cm, and if the sowing is too shallow, phytotoxicity is likely to occur.
Quality guarantee period: 2 years
---
---