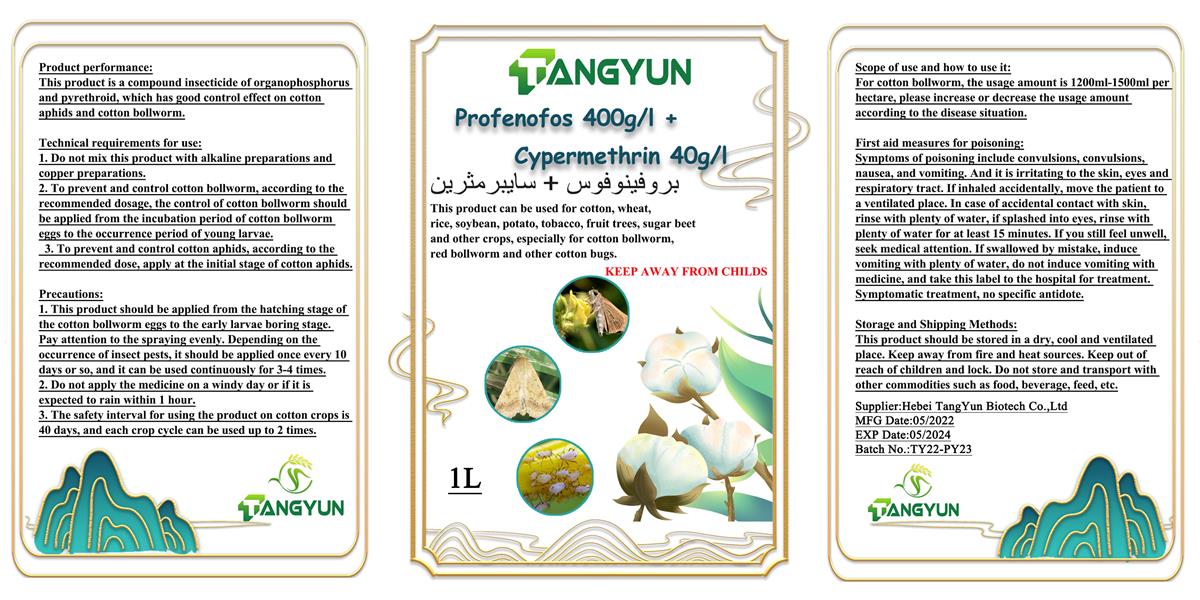 Tech Grade: 94%TC   89%TC
| | | | |
| --- | --- | --- | --- |
| Specification | Targeted Insects | Dosage | Packing |
| Profenofos 40%EC | rice stem borer | 600-1200ml/ha. | 1L/bottle |
| Emamectin benzoate 0.2% + Profenofos 40%EC | rice stem borer | 600-1200ml/ha | 1L/bottle |
| Abamectin 2% + Profenofos 35%EC | rice stem borer | 450-850ml/ha | 1L/bottle |
| Petroleum oil 33%+Profenofos 11%EC | cotton bollworm | 1200-1500ml/ha | 1L/bottle |
| Spirodiclofen 15% + Profenofos 35%EC | cotton red spider | 150-180ml/ha. | 100ml/bottle |
| Cypermethrin 40g/l + Profenofos 400g/l EC | cotton aphids | 600-900ml/ha. | 1L/bottle |
| Propargite 25% + Profenofos 15%EC | Orange tree red spider | 1250-2500 times | 5L/bottle |
Technical requirements for use:
1. Evenly spray the cotton bollworm eggs in the hatching stage or the young larvae stage, and the dosage is 528-660 g/ha (active ingredient)
2. Do not apply in strong wind or 1 hour rain is expected.
3. The safe interval for this product to be used in cotton is 40 days, and each crop cycle can be applied up to 3 times;
FAQ:
Q: Is profenofos okay to fight red spiders during the flowering period of citrus?
A: It is not suitable to use, because of its high toxicity, it should not be used on fruit trees. And it's not good for red spider control. :
Q: What is the phytotoxicity of profenofos?
A: When the concentration is high, it will have certain phytotoxicity to cotton, melons and beans, and phytotoxicity to alfalfa and sorghum; for cruciferous vegetables and walnuts, avoid using them during the flowering period of crops
Q: Can the pesticide profenofos be applied at the same time as leaf fertilizer?
A: Do not use foliar fertilizers and pesticides at the same time. Sometimes it has a positive effect, but more often it has a negative effect, which is more likely to aggravate the disease.
---
---