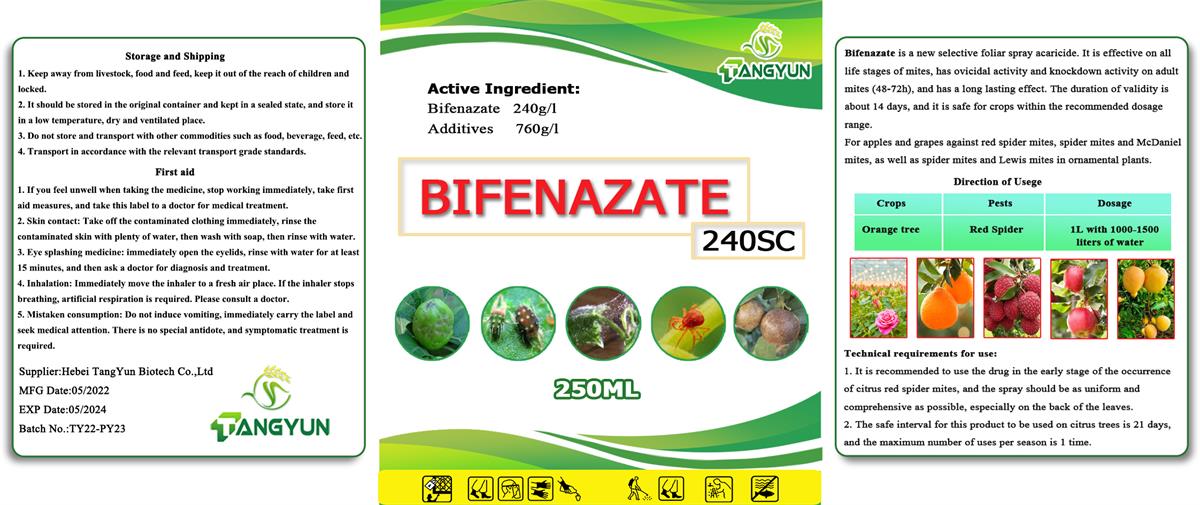 Tech Grade: 97%TC
| | | | |
| --- | --- | --- | --- |
| Specification | Targeted Insects | Dosage | Packing |
| Bifenazate 15%EC | Orange tree red spider | 1500-2000 times | 1L/bottle |
| Bifenazate | Apple tree red spider | 3000-4000 times | 1L/bottle |
| Bifenazate | Orange tree red spider | 2000-3000 times | 1L/bottle |
| Bifenazate | Phyllotreta vittata Fabricius | 100-150g/ha | 100g |
| Bifenazate | red spider | 5500-7000 times | 100ml/bottle |
| Bifenazate | red spider | 1500-2000 times | 1L/bottle |
| Bifenazate | red spider | 1500-2000 times | 1L/bottle |
| Bifenazate | red spider | 1500-2000 times | 1L/bottle |
Technical requirements for use:
1. In the peak period of hatching of red spider eggs or the peak period of nymphs, spray with water when there are 3-5 mites per leaf on average, and can be applied again at intervals of 15-20 days depending on the occurrence of pests. Can be used 2 times in a row.
2. Do not apply on windy days or if it is expected to rain within 1 hour.
Precautions for use:
1. Rotation with other insecticides with different mechanisms of action is recommended to delay the development of resistance.
2. This product is toxic to aquatic organisms such as fish, and should be kept away from the aquaculture area for application. It is forbidden to clean the application equipment in water bodies such as rivers and ponds.
3. It is not recommended to mix with organophosphorus and carbamate. Do not mix with alkaline pesticides and other substances.
4. Safe for predatory mites, but highly toxic to silkworms, banned near mulberry gardens and jamsils.
---
Previous:
Herbicide Fenoxaprop-p-ethyl 69G/L EW
---